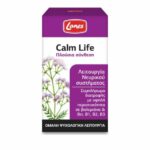 Lanes Calm Life 100 caps – For The Nervous System
Sale!
Lanes Calm Life 100 caps – For The Nervous System
Με Φ.Π.Α
-40%
| | |
| --- | --- |
| Weight | 0,20 kg |
| Κατασκευαστής | |
| MPN | 5201314122272 |
Available from 1 to 3 days
5 in stock
Dietary supplement for relaxation and calm.
Description
Calm Life is a Dietary Supplement with a high content of valerian & Vitamins B1, B2, B3 that contribute to the normal functioning of the nervous system.
Properties
Calm Life is high in Valerian
(53.5 mg of dry extract / 294-396 mg of valerian root) and vitamins B1, B2, B3 in 100% content of S.H.P. per capsule. Valerian has been used for many years thanks to its known calming and relaxing properties.
Vitamins B1 and B3 contribute to normal psychological function while vitamin B1 contributes to the normal function of the heart. Vitamins B2 and B3 help reduce fatigue and tiredness.
Nutrition Analysis Table
NUTRITIONAL ANALYSIS PER CAPSULE% S.P.
Vitamin B1 (Thiamine) 1.1 mg 100
Vitamin B2 (Riboflavin) 1.4 mg 100
Vitamin B3 (Niacin) 16mg 100
Dry Valerian Extract (5.5-7.4: 1)
equivalent to valerian root
53.5 mg
294-396 mg
–
Advantages of Use
It has an enhanced formula with specially selected vitamins B1, B2, B3 for the proper functioning of the nervous system and therefore for the calm of the body. Contains the most sufficient amount of valerian and all 3 B vitamins for immediate and satisfactory effectiveness. It does not cause fatigue, drowsiness or addiction while it is in the form of a soft capsule for easier swallowing.
Danish for those who have symptoms of nervousness or mild insomnia.
People who due to living conditions, eg stressful conditions, work in shifts, physical fatigue, have difficulty sleeping.