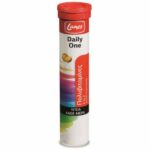 Lanes Daily One Multivitamin with Complete Combination of Vitamins & Minerals 20 Effervescent Tablets
Sale!
Lanes Daily One Multivitamin with Complete Combination of Vitamins & Minerals 20 Effervescent Tablets
Με Φ.Π.Α
-40%
| | |
| --- | --- |
| Weight | 0,15 kg |
| Κατασκευαστής | |
| MPN | 5201314047414 |
Available from 1 to 3 days
4 in stock
For daily replacement of nutritional deficiencies
Description
Dietary supplement with 12 Vitamins & 4 minerals in effervescent form for easy intake with orange flavor.
Properties
The Daily One multivitamin offers a complete combination of vitamins and minerals that the body needs daily to maintain its proper function. Its composition effectively covers the nutritional deficiencies arising from an unbalanced diet while helping to address the problems associated with poor nutrition such as fatigue and weakness, while ensuring health and vitality.
Nutrition Analysis Table
Nutritional Information Per tablet Content% S.I.P.
Energy 9.7kcal (42kj)
Carbohydrates 0.02g
Vitamin A 345 μg 43
Vitamin B1 (Thiamine) 1.1 mg 100
Vitamin B2 (Riboflavin) 1.4 mg 100
Vitamin B3 (Niacin) 16 mg 100
Vitamin B5 (Pantothenic acid) 6 mg 100
Vitamin B6 1.4 mg 100
Vitamin B12 2.5 μg 100
Vitamin C 105 mg 131
Folic acid 200 μg 100
Biotin 50 μg 100
Vitamin D 5 μg 100
Vitamin E 12 mg 100
Manganese 1 mg 50
Copper 0.5 mg 50
Iron 4 mg 28
Zinc 5 mg 50
* S.H.P. = Recommended Daily Intake. Proteins, negligible fats.
Advantages of Use
It offers health and vitality by covering nutritional deficiencies. Thanks to the rich composition with the necessary vitamins and minerals, it contributes to the smooth functioning of the body and the strengthening of the immune system.
Form – Packaging
20 effervescent tablets in a plastic tube.
Recommended Dosage
Use:
1 tablet per day dissolved in a glass of water
It is recommended to take the preparation in the morning after breakfast.
Composition
Citric acid, sodium bicarbonate, Vitamins: C, B3, E, B5, B6, B2, B1, folic acid, biotin, B12, D, A, beetroot powder, sodium cyclamate, peach & orange aroma, iron gluconate, sodium, manganese gluconate, zinc oxide, copper sulfate.
Does not contain: Sugar, gluten, iodine, preservatives
Pregnant / Breastfeeding: Consult your doctor.
Children: Can be used by children 12 years and older.
Diabetics: Does not contain sugar.
Vegetarians: Suitable for vegetarians
Special Precautions: May contain traces of milk.
Product notified to EOF: 10011 / 17.3.99, 69892 / 4.10.11, 80878 / 17.11.11, 39559 / 2.5.
The product was added to our catalog on: 2014-10-09 14:04:46. Last update: 2020-12-12 18:34:29
More information about the product can be found on the official page of the supplier.