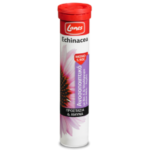 Lanes Echinacea, with Vitamin C Zinc, with Honey-Lemon flavor, 20 Apr. Tablets
Sale!
Lanes Echinacea, with Vitamin C Zinc, with Honey-Lemon flavor, 20 Apr. Tablets
Με Φ.Π.Α
-51%
| | |
| --- | --- |
| Weight | 0,15 kg |
| Κατασκευαστής | |
| MPN | 5201314047438 |
Available from 1 to 3 days
18 in stock
Description
Dietary supplement with Echinacea, vitamin C, Zinc, Acerola & Wild Rose in effervescent form for easy intake in a wonderful honey-lemon taste.
Properties
Combination of Echinacea with Vitamin C, zinc & acerola & wild rose extracts, with beneficial properties in strengthening the body's natural defense against the common cold. It ensures the daily coverage of the body's needs for vitamin C & zinc and is a unique combination to protect the body in winter.
Echinacea is an herb with beneficial properties as it shields the immune system, while helping to strengthen the body's defenses, helping to prevent colds. In addition, it speeds up the speedy recovery, helping to reduce the symptoms.
Nutrition Analysis Table
Nutritional Analysis per 1 capsule Content% S.I.P.
Energy 8.8kcal / 38 kj
Carbohydrates 0.08 g
Vitamin C 135mg 169
Zinc 8mg 80
Echinacea 125 mg –
Acerola 100 mg –
Rosehip 150 mg –
* Σ.Η.Π. Recommended Daily Intake. Proteins, negligible fats
Advantages of Use
It strengthens the body's natural defenses, replenishes daily deficiencies in vitamin C & zinc and provides complete protection of the body in winter.
Recommended at
Healthy people, athletes or regular athletes in periods of high risk for viruses and colds.
Form – Packaging
20 effervescent tablets in a plastic tube.
Recommended Dosage
Use:
Adults & children over 12 years: 1 tablet per day dissolved in a glass of water.
It is recommended to take the preparation in the morning after breakfast.
Drink hot or cold.
Composition
Citric acid, sodium bicarbonate, sorbitol, vitamin C, wild rose extract, echinacea, acerola, zinc oxide, aspartame, acesulfame-K, lemon & honey aroma, riboflavin.
Does not contain: Sugar, gluten, preservatives
Pregnant / Breastfeeding: Not recommended. Consult your doctor.
Children: Suitable for children 12 years and older.
Diabetics: Does not contain sugar.
Vegetarians: Suitable for vegetarians.
Special precautions:
Source of phenylalanine.
May contain traces of milk.
Caution in concomitant use with drugs metabolized by cytochrome P450 or hypoxic drugs.
Vitamin C interacts with specific regimens of chemotherapy, hormone therapy.
Product notified to EOF: 20604 / 17.3.09, 39554 / 2.5.14