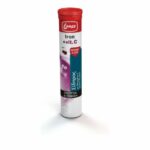 Lanes Iron & Vitamin C, Cherry Flavored, 20 Effervescent Tablets
Sale!
Lanes Iron & Vitamin C, Cherry Flavored, 20 Effervescent Tablets
Με Φ.Π.Α
-30%
| | |
| --- | --- |
| Weight | 0,15 kg |
| Κατασκευαστής | |
| MPN | 5201314060543 |
Available from 1 to 3 days
10 in stock (can be backordered)
The iron supplement with vitamin C from Lanes combines iron, a vital metal for the proper functioning of the body, with the also important vitamin C that helps in its absorption, in the dosage required to meet the daily needs of the body at a rate of 100 %.
The primary action of iron lies in the normal formation of red blood cells and hemoglobin that carry vital oxygen to the body. Iron enhances normal cognitive function, as it is involved in the synthesis of neurotransmitters in the brain. Along with vitamin C, which increases its absorption, they play an important role in the normal functioning of the metabolism that aims to produce energy, thus reducing fatigue and fatigue of the body. At the same time, they contribute to the normal functioning of the immune system by strengthening the body's defenses. In addition, vitamin C contributes to the formation of collagen for the normal functioning of the skin, blood vessels, bones, cartilage, teeth and gums.
Use:
Adults and children over 15 years:
1 tablet per day, dissolved in a glass of water, for 3 months, stop for 1 month.
Repeat the use in the same way.
It is recommended to take the preparation in the morning after breakfast.
Nitric acid, sodium bicarbonate, sorbitol, iron gluconate, vitamin C, cherry aroma, beet powder, acesulfame K, aspartame.
Does not contain: Sugar, gluten, iodine, preservatives.
Pregnant / Breastfeeding: Consult your doctor.
Children: Consult your doctor.
Diabetics: Does not contain sugar. Suitable for diabetics.
Vegetarians: Suitable for vegetarians.
Special Precautions: May contain traces of milk. Source of phenylalanine.