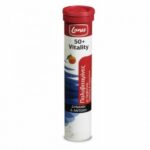 Lanes Πολυβιταμίνες 50+ Ζωτικότητα – Συμπλήρωμα Διαθέσιμο Για Δύναμη & Αντοχή, 20 Αναβράζ δια ταμπλέτες
Sale!
Lanes Πολυβιταμίνες 50+ Ζωτικότητα – Συμπλήρωμα Διαθέσιμο Για Δύναμη & Αντοχή, 20 Αναβράζ δια ταμπλέτες
Με Φ.Π.Α
-48%
| | |
| --- | --- |
| Weight | 0,08 kg |
| Κατασκευαστής | |
| MPN | 5201314047421 |
Available from 1 to 3 days
2 in stock
Dietary supplement with 11 vitamins, 4 minerals, prebiotics, lutein & lycopene in effervescent form for easy tangerine magnification.
Properties
The multivitamin Vitality 50+ offers an innovative combination of vitamins & minerals, enhanced with extra ingredients and is specially designed for the increased needs of people over 50 years old. Its complete and balanced composition helps maintain the normal function of the body by strengthening the defense system and offering energy, vitality and well-being.
Its extra ingredients are especially necessary for those aged 50 and over.
Prebiotics – inulin fiber: Necessary for the growth of friendly bacteria in the intestine and therefore for the maintenance of intestinal flora, which is a vital factor for the healthy state of the digestive system and strengthens the body's defenses. In addition to their contribution to gastrointestinal function, prebiotics enhance the absorption of nutrients.
Lutein is a carotenoid, a unique component of the macula. A valuable antioxidant for eye health, it absorbs sunlight (blue visible light), acting as a filter. Clinical studies show that adequate lutein intake contributes to a reduced risk of macular degeneration (AMD-Age related Macular Degeneration) & cataracts.
Lycopene is an important antioxidant component for treating the effects of oxygen free radicals created by external factors but also during cell metabolism. It is thought to have additional properties, such as its beneficial effect on the skin and lowering cholesterol, due to the fact that it inhibits the action of the enzyme that catalyzes its production.
Nutrition Analysis Table
Nutritional Information Per Tablet Content% S, H, P,
Energy 8.9 kcal (38 kj)
Carbohydrates 003 g
Vitamin B1 Thiamine 1.1 mg 100
Vitamin B2 Riboflavin 1.4 mg 100
Vitamin B3 Niacin 16 mg 100
Vitamin B5 Pantothenic acid 6 mg 100
Vitamin B6 1.4 mg 100
Vitamin B12 2.5 μg 100
Folic acid 200 μg 100
Vitamin C 80 mg 100
Vitamin D 5 μg (200 i, u,) 100
Vitamin E 12 mg 100
Biotin 50 μg 100
Calcium 160 mg 20
Magnesium 56.25 mg 15
Zinc 4 mg 40
Selenium 60 μg 91
Lutein 500 μg –
Lycopene 50 μg –
Inulin 190 mg –
* Σ.Η.Π. Recommended Daily Intake. Proteins, negligible fats.
Advantages of Use
It offers energy, vitality and well-being by strengthening the body's defense system. Helps maintain eye health and ensures the absorption of nutrients.
Recommended at
People 50 years and older to meet the daily increased needs and strengthen the body. In addition, in younger people with increased needs in which a preparation with extra tonic ingredients such as Panax Ginseng is contraindicated.
Form – Packaging
20 effervescent tablets in a plastic tube.
Recommended Dosage
Use:
1 tablet per day dissolved in a glass of water
It is recommended to take the preparation in the morning after breakfast.
Composition
Citric acid, sodium bicarbonate, inulin, calcium carbonate, magnesium carbonate, vitamins: C, B3, E, B5, B6, B2, B1, folic acid, biotin, B12, D, β-carotene, lutein, lycopene , lunar sodium, aspartame, acesulfame K, mandarin & orange aroma.
Does not contain: Gluten sugar, iodine, preservatives
Pregnant / Breastfeeding: Not recommended. Consult your doctor.
Children: –
Diabetics: Does not contain sugar.
Vegetarians: Suitable for vegetarians
Special Precautions: Source of phenylalanine. May contain traces of milk.
Product notified to EOF: 82716 / 18.12.07, 43517 / 14.6.12, 39558 / 2.5.14
* The red granules in the solution are due to the ingredients lutein & lycopene