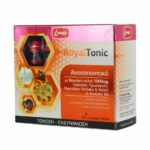 Lanes RoyalTonic Oral Dietary Supplement with Royal Jelly, Colostrum & Propolis, 10 vials x 10ml
Sale!
Lanes RoyalTonic Oral Dietary Supplement with Royal Jelly, Colostrum & Propolis, 10 vials x 10ml
Με Φ.Π.Α
-30%
| | |
| --- | --- |
| Weight | 0,30 kg |
| Κατασκευαστής | |
Available from 1 to 3 days
3 in stock (can be backordered)
TONING & STRENGTHENING
Description
Dietary supplement with royal jelly, colostrum, propolis, organically grown reishi & shiitake mushrooms & vitamin B6. With excellent taste.
Properties
Royal Tonic is a specialized dietary supplement that combines royal jelly and propolis, known to stimulate and shield the body with other nutrients. Royal jelly, the most well-known "superfood", is rightly considered an "elixir of health and youth" as it is particularly beneficial for strengthening the body. Colostrum (colostrum), an equally excellent natural food, is the first milk of mammals offered to their newborns during the first 2436 hours immediately after birth. Colostrum is particularly rich in nutrients with all the antibodies that need to strengthen the body of newborns and strengthen their immune system. Research shows that colostrum is a rich source of protein, growth factors, vitamins, minerals, carbohydrates and other bioactive factors with a positive effect on immune strengthening and beneficial benefits for the body, not only for the newborn but also for the newborn. With organically grown mushrooms reishi & shiitake, rich in natural nutrients that rejuvenate and stimulate the body. Reishi mushroom is known as "the elixir of life" due to its anti-aging properties. Reishi & shiitake mushrooms, thanks to their high content of polysaccharides-β-glucans, rejuvenate the body and strengthen the natural defenses. In addition, vitamin B6 contributes to the normal functioning of the immune and nervous systems, as well as the regulation of hormonal activity, normal psychological function and the reduction of fatigue and tiredness.
Nutrition Analysis Table [red]
NUTRITIONAL INFORMATION BREAKFAST CONTENT% S.I.P.
Royal jelly 1000mg –
Colostrum 1000mg –
Shiitake Mushrooms ** 250mg –
Reishi Mushrooms ** 250mg –
Propolis extract
equivalent to crude propolis
40mg
100mg
–
Vitamin B6 1.4 mg 100
* Σ.Η.Π. Recommended Daily Intake.
** organic farming
[red] Advantages of Use
It strengthens the immune system and strengthens the treatment of colds and flu, while helping to prevent diseases of the upper respiratory system, such as the "common cold".
Recommended at
It is ideal in times of imminent weakening of the immune system (flu, cold) or low defense helping to strengthen the body's resistance to protect it from germs. Thanks to its exclusive composition, it is also ideal in periods of recovery from the influence of external factors that weaken the body.
Form – Packaging
10 vials of 10ml in a box.
Recommended Dosage
Use:
Take 1 vial before breakfast. Shake well before use.
Composition
Deionized water, agave syrup, royal jelly, colostrum, fructose, shiitake & reishi powder concentrate, pure propolis, vitamin B6, potassium sorbate, sodium benzoate, caramel pigment.
Does not contain: Sugar, gluten.
Pregnant / Breastfeeding: Consult your doctor.
Children: Consult your doctor.
Diabetics: Does not contain sugar.
Special Precautions: Not recommended in case of allergy to bee products.
Product notified to EOF: 47219 / 8.6.16.