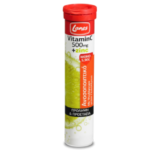 Lanes Vitamin C 500mg with Zinc (Zinc), 20 rev. tablets, sweet lemon flavor
Sale!
Lanes Vitamin C 500mg with Zinc (Zinc), 20 rev. tablets, sweet lemon flavor
Με Φ.Π.Α
-43%
| | |
| --- | --- |
| Weight | 0,15 kg |
| Κατασκευαστής | |
| MPN | 5201314047384 |
Available from 1 to 3 days
6 in stock
For prevention and enhanced protection
Description
Food supplement in effervescent form for easy intake with a wonderful taste of sweet lemon.
Properties
Lanes Vitamin C 500mg fortified with zinc is an ideal supplement for boosting the immune system, strengthening the body's defenses and shielding against the common cold. At the same time it gives vitality and energy to the body while providing antioxidant protection against free radicals. The presence of zinc enhances the action of vitamin C. Zinc in addition to its contribution to strengthening the immune system has other properties. It is a trace element necessary for the proper functioning of vision and cognitive function while helping to maintain normal testosterone levels, and normal fertility & reproduction. Its cosmetic effects are also known as it protects cells from oxidative stress and helps maintain the normal condition of bones, skin, nails and hair.
Nutrition Analysis Table
Nutritional Information Per 1 tablet Content% S.I.P.
Energy 9.4kcal (37kj)
Carbohydrates 0.02 g
Vitamin C 500 mg 625
Zinc 10 mg 100
Advantages of Use
Replenishes the body's deficiencies in vitamin C & zinc, strengthens the immune system, helps fight viruses and colds and reduce their duration.
Recommended at
People who need higher doses of vitamin C such as people who want to avoid or treat a cold or reduce its duration. People who follow a vegetarian diet, have malabsorption syndromes, inflammatory bowel disease and people with frequent alcohol consumption.
Form – Packaging
20 effervescent tablets in a plastic tube.
Recommended Dosage
Use:
1 tablet per day dissolved in a glass of water.
It is recommended to take the preparation in the morning after breakfast.
It should be consumed separately from the fiber, as the latter make it difficult to absorb zinc.
Composition
Citric acid, sodium bicarbonate, Vitamin C, sorbitol, lemon aroma, aspartame, acesulfame K, Zinc oxide, riboflavin
Does not contain: Sugar, gluten, preservatives
Pregnant / Breastfeeding: Not recommended. Consult your doctor
Children: Consult your doctor.
Diabetics: Does not contain sugar.
Vegetarians: Suitable for vegetarians.
Special Precautions: Source of phenylalanine. May contain traces of milk.
Product notified to EOF: 52358 / 28.9.04, 75031 / 23.10.12, 39555 / 2.5.14