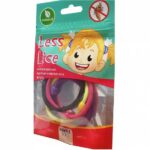 Less Lice Anti-lice Hair Rubber 4pcs.
Sale!
Less Lice Anti-lice Hair Rubber 4pcs.
Με Φ.Π.Α
-17%
| | |
| --- | --- |
| Weight | 0,02 kg |
| MPN | 6970044725679 |
Available from 1 to 3 days
25 in stock (can be backordered)
Anti-lice Rubbers For Hair
Lice are more likely to mainly affect people between the ages of 5 and 12 and are more common in girls. Lice are usually transmitted either by direct contact with the heads, or by sharing hats, combs, etc. Lice live for about 30-50 days and lay 100-300 eggs during their adult life, which after 24 days become mature lice that can reproduce.
Less Lice
Anti-lice hair band with oils of natural ingredients, for effective prevention against lice.
Continuous aroma diffusion.
Contributes to your effective protection against lice.

Long lasting & easy to use

Waterproof

Use it as a simple hair band.

Duration of use

5-7 days / rubber band

With natural essential oils.