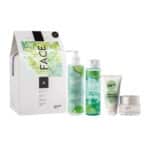 Medisei Panthenol Extra PROMO Face Gift Away Care Set with Face Cream
Sale!
Medisei Panthenol Extra PROMO Face Gift Away Care Set with Face Cream
Με Φ.Π.Α
Available from 1 to 3 days
4 in stock
Panthenol Extra PROMO 2022 Face Gift Away Cleansing Emulsion 3in1 250ml & Toning Lotion With AHA 200ml & Mask With Green Clay 75ml & 24-Hour Anti-Wrinkle Face & Eye Cream 50ml
Cleansing Milk 3 in 1 Cleansing Emulsion for Face, Eyes and Lips 250ml
Gentle cleansing emulsion that effectively removes dirt and make-up from the face, eyes and lips. With cucumber and green tea for a feeling of freshness, cleanliness and rejuvenation.
Enriched with Almond Oil, Panthenol, Vitamin E, Oats and Hyaluronic Acid, ingredients that provide protection and nourishment to the skin.
Ideal for oily, acne-prone skin. Suitable for Vegans.
Gluten free.
Apply sufficient amount to face, eyes, lips and massage lightly.

Detox Tonic Facial Toning Lotion with AHA 200ml

Toning face cleansing lotion with AHA, for rejuvenated and healthy skin. The combination of glycolic and lactic acid helps remove dead skin cells and accelerates skin renewal. The result is the minimization of imperfections seen from black spots and pimples, reduction of wrinkles and spots. At the same time, it properly prepares the skin to accept the basic care routine, helping the penetration of the active ingredients.
Ideal for oily and acne-prone skin.
Suitable for Vegans. Gluten free.
Apply to clean face, neck and décolleté, avoiding the eye area and lips.

Face & Eye Cream Anti-wrinkle Face and Eye Cream 50ml

Panthenol | Saffron | Peptides | Hyaluronic Acid | Ribose
Anti-wrinkle action and deep hydration
Protection from solar radiation
Visible results from week 1*
Put Panthenol Extra Face & Eye Cream into your life and see your skin looking younger day by day!
Anti-wrinkle cream that provides comprehensive protection to the skin of the face and the eye area. It contains ingredients important for the skin such as Panthenol, Crocus, Peptides, Hyaluronic Acid and Ribose, which hydrate deeply and contribute to the reduction of wrinkles and the improvement of the oval of the face. The skin looks younger and the look brighter and healthier.
*Volunteers used it for 4 weeks and observed
• More hydration and firming (100%)
• Improved appearance (96%)
• Reduction of wrinkles (88%)
Panthenol: Deeply moisturizes, contributes to cell renewal and improves skin texture.
Hyaluronic acid: Moisturizes the stratum corneum, gives the skin elasticity and shine.
Yolk: Antioxidant action against free radicals responsible for premature aging.
Ribose : Anti-aging agent, activates metabolism and improves cell activity.
Peptides : Promotes collagen synthesis, reduces fine lines and slows the appearance of new wrinkles.
Dermatologically and ophthalmologically tested.
Green Clay Facial Mask Deep Cleansing Face Mask with Green Clay 75ml

Deeply cleanses, removes dirt, excess sebum and oiliness.
It contains Panthenol which deeply hydrates and Sunflower Oil which gives Shine and Rejuvenation.
It leaves the skin clean, smooth and shiny.
Suitable for all skin types. Ideal for oily skin.
Apply a generous layer of mask to clean skin avoiding the eye area.
Leave the mask on for 10 – 20 minutes and then remove with fresh cotton and rinse with plenty of water. Apply 1-2 times a week.