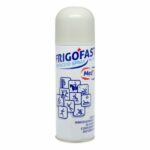 Med's Frigofast Cooling Spray 400ml
Sale!
Med's Frigofast Cooling Spray 400ml
Με Φ.Π.Α
-53%
| | |
| --- | --- |
| Weight | 0,25 kg |
| Κατασκευαστής | |
| MPN | 8000246006202 |
Available from 4 to 10 days
Frigofast Refrigerant Spray Med's
Meds Frigofast Cooling Spray 400ml, used to relieve pain caused by
injuries, injuries, sprains, swellings or sprains.
Its anesthetic action, caused by the cooling of the injured area,
allows the injured person to quickly return to normal or athletic activity.
Use:
Spraying on the injured-bruised spot lasts for 3-4 seconds and from a distance of at least 15-20 cm.
Spraying should be stopped when a type of white frost appears on the affected area.
If necessary, the spray can be repeated.
Achieving mechanical cold anesthesia will relieve the patient by temporarily alleviating the pain.
The cooling spray is sprayed in case of violent collisions and sprains, it acts immediately causing immediate relief due to the action of high cold.
Be careful when using it because the product can cause cold burns.
Store in a shady and cool environment.
Packaging: 400ml