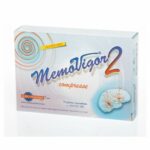 Memovigor 2 900mg 20 Tablets
Sale!
Memovigor 2 900mg 20 Tablets
Με Φ.Π.Α
-22%
| | |
| --- | --- |
| Weight | 0,10 kg |
| MPN | 5206856000071 |
Available from 1 to 3 days
1 in stock (can be backordered)
Suitable for maintaining and improving memory, protecting and slowing down cell degeneration, Alzheimer's disease, senile dementia. Ideal for vegeterians and vegans. From 14 years and over.
Acetyl-L-Carnitine – L-Acetylcarnitine
It is an orthomolecule that provides remarkable benefits to the brain metabolism
– achieves the barrier of eukaryotic cells, the approach of mitochondria, respiratory and energy activation, as well as the intervention in remedial and developmental factors (N.G.F.) of the central and peripheral nervous system.
– is a co-factor in the mitochondrial production of energy from the fatty acids of neurons, therefore contributes significantly to their energy need.
Alpha Lipoic Acid – Alpha Lipoic Acid Alpha Lipoic Acid – Alpha Lipoic Acid
It is used as an antioxidant to treat diabetes and HIV. It has also been used for cancer, liver diseases, and various others.
Bilberry Fruit – Raspberry Bilberry Bilberry Fruit – Raspberry Bilberry
According to research, flavonoid anthocyanins (present in large quantities in raspberry) stimulate the production of mycopolysaccharides, which are one of the key building blocks of skin tissue. They are also very important in the fight against free radicals.
Gingko Biloba – Gingko Biloba Gingko Biloba – Gingko Biloba
GINGKO BILOBA extract (titrated by 24%) with the appropriate dosage, seems to have useful properties for the treatment of cochlear labyrinth disorders:
• It is a strong antagonist of PAF, reduces platelet aggregation, thrombus formation, capillary permeability
• Acts on the hemodynamic and hemorrhagic front
• Acts as a vessel regulator by reducing capillary permeability by increasing the resistance of vessel walls
• Has immediate effects against neuronal necrosis and apoptosis as demonstrated during labyrinth compensation
Animal models suggest intervention at the molecular and cellular level as a free radical scavenger and lipid peroxidation inhibitor
• Preservation of ATP content protecting mitochondrial respiration and oxidative phosphorylation
Glutamic acid – Glutamic acid Glutamic acid – Glutamic acid
tonic and tonic of the central nervous system, is also used in cases of reduced mental performance.
Linoleic acid – Linoleic acid Linoleic acid – Linoleic acid
necessary in the diet of mammals, acting as an importer of prostaglandins. These are found in tissues and body fluids, with a high degree of structural specialization in a wide field of action: vasomotor tone, capillary permeability, CNS functions, platelet aggregation and regulation of concentration at the cellular level of AMP and GMP (component of nucleic acids and many biologically important nucleotides). In addition, very recent research has shown that linoleic acid retains and, although slightly, raises HDL cholesterol, which acts as a protector against coronary heart disease.
Magnesium – Magnesium Magnesium – Magnesium
metal which is not found in large quantities in the body and, after potassium, is the most important intracellular cation. It acts directly at the level of neuromuscular compound and is a coenzyme that performs, at the level of the nervous system, important physiological and electrochemical work.
Phosphatidyl Serine – Phosphatidylserine Phosphatidyl Serine – Phosphatidylserine
It is a phospholipid that is a structural component of cell membranes and is therefore involved in numerous membrane-related functions.
• It is the basic building block of nerve cells
Many vital functions depend on its existence, including ATP production, ionic homeostasis, activation levels, stimulation, cellular communication and inactivation
• It is an effective antioxidant, especially in terms of oxidation due to the presence of iron.
Phosphorus – Phosphorus Phosphorus – Phosphorus
It represents an essential component of cellular protoplasts, playing an important role in biochemical compositions and energy transport. It is a component of nerve tissue.
Potassium – Potassium Potassium – Potassium
important cation of intracellular fluid. Its importance is associated with the maintenance of renal function and the stimulation of certain cells of the nervous and muscle tissue.
Selenium – Selenium Selenium – Selenium
essential component of glutathione peroxidase (GSPH). Lack of it can cause oxidation of cell membranes by free radicals. Its antioxidant action is synergistic with that of vitamin E.
Vitamin B1 – Vitamin B1 Vitamin B1 – Vitamin B1
is very important for the nervous and circulatory system. Lack of it can cause serious damage to the aforementioned systems.
Vitamin B12 – Vitamin B12 Vitamin B12 – Vitamin B12
It is indicated in various forms of anemia and is essential for cells with a high rate of reproduction and therefore, inter alia, for the myelination of nerve fibers.
Vitamin B6 – Vitamin B6 Vitamin B6 – Vitamin B6
acts as a coenzyme in the metabolism of proteins, carbohydrates and fat. Lack of it can cause depression in adults and seizures in children. In newer uses it is recommended to prevent extrapyramidal disorders by taking medications.
Vitamin C – Vitamin C Vitamin C – Vitamin C
important for humans due to the multiplicity of its functions, which we do not yet know as a whole. It intervenes to strengthen the immune system and acts as an antioxidant.
Vitamin E – Vitamin E Vitamin E – Vitamin E.
known in particular for its antioxidant activity as a protector of cell membranes. Its action seems to focus mainly on red blood cells, preventing hemolysis, and on platelets, partially inhibiting their accumulation.