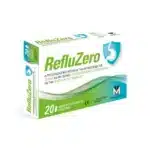 Menarini RefluZero for Gastroesophageal Reflux 20 Tablets
Sale!
Menarini RefluZero for Gastroesophageal Reflux 20 Tablets
Με Φ.Π.Α
-20%
| | |
| --- | --- |
| Weight | 0,12 kg |
| Κατασκευαστής | |
Available from 1 to 3 days
15 in stock
REFLUZERO – IMMEDIATE REDUCTION OF SYMPTOMS RELATED TO GASTROesophageal reflux
Medical technology product with mechanical action for the immediate treatment of heartburn and the symptoms of acid and non-acid GERD (Gastroesophageal Reflux Disease).
TRIPLE ACTION
PROTECTION: Chondroitin Sulfate – Forms a protective film that prevents the attack of gastric acids.
ANTI-ACID ACTION: Aluminum Hydroxide – Acts as an antacid, reducing the effect of gastric acids.
REPAIR: Hyaluronic Acid – Helps protect and repair damaged esophageal tissue
REFLUZERO IS SUITABLE FOR:
Symptomatic treatment of gastroesophageal reflux disease. It immediately reduces associated symptoms such as: heartburn, epigastric pain, acid reflux, irritating cough and dysphonia.
The symptomatic treatment of hyperacidity (occasional pain and heartburn).
Refluzero protects against the irritating effect of hydrochloric acid produced by the stomach.
Refluzero tablets dissolve in the mouth, stimulating salivation and offering better contact with the ingredients and the esophageal wall, increasing protection and lubrication.