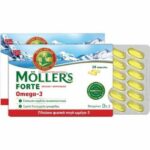 Moller's Forte Cod Oil Blend of Fish Oil & Cod Oil Rich in Omega 3 Fatty Acids 30caps
Sale!
Moller's Forte Cod Oil Blend of Fish Oil & Cod Oil Rich in Omega 3 Fatty Acids 30caps
Με Φ.Π.Α
-22%
| | |
| --- | --- |
| Weight | 0,00 kg |
| Κατασκευαστής | |
| MPN | 2400546214059 |
Available from 1 to 3 days
10 in stock (can be backordered)
Moller's Forte
Mixture of Fish Oil & Cod Oil in a ratio of 3 to 1
Soft capsules of omega-3 fatty acids from a mixture of high quality cod liver oil and fish oil in a ratio of 1:3. Ideal solution for those who wish to strengthen their immune and nervous systems, heart, brain functions, etc.
In recent years, countless studies have highlighted omega-3 fatty acids as a particularly important nutritional factor for our health. At the same time, cod liver oil, once known for its vitamins A and D, emerged as a surprising natural superfood after it became known
that it was also a very rich source of omega-3 fatty acids.
In Norway, the home of cod and fish oil, but also in many other countries, especially those in the far north, Möller's absolutely dominates as the recognized high-quality producer of cod oil, fish oil and omega-3 fatty acids.
With standards of purity (absence of heavy metals and other toxic substances) and antioxidant protection of its products far stricter than those of Norway and the European Union, and with raw materials of unsurpassed quality, Möller's has been offering the consumer for 160 years products that have been "built" the health of millions of children and adults around the world.
Apollonian Nutrition, with expertise, but also a passion for quality, introduces these excellent products to the Greek market directly from the producer, avoiding the processing and/or stress that similar products from surrogate resellers so often undergo.
What are the benefits of cod liver oil?
Möller's cod liver oil is a refined oil from the fresh liver of cod or other fish of the Gadidae family, such as cod and cod. It is rich in ω-3 fatty acids and vitamin D, while it also contains vitamin A and vitamin E (as an antioxidant). So the benefits for the body are multiple:
Omega-3 fatty acids (DHA and EPA)
DHA and EPA are found in cod and fish oils and are the most important fatty acids of the ω-3 family. They are structural components of human cells and important elements for the proper functioning of the brain, eyes and heart. They help prevent and limit diseases of the joints and rheumatoid arthritis, rickets and osteoporosis, cardiovascular
diseases, cancer, dyslexia and hyperactivity, depression, diabetes, infections and skin diseases.
Some studies show that omega-3 fatty acids can reduce attention deficit symptoms in children and improve their cognitive abilities. Also, there is evidence that they protect against Alzheimer's and the gradual loss of memory due to age. Harvard study showed that the
ω-3 fatty acids increase the life expectancy of the elderly by 2.22 years. Finally, research shows that cod liver oil improves sperm quality and intelligence. A study showed that four-year-old children,
whose mothers received cod oil (DHA and EPA) during pregnancy and lactation performed better on intelligence tests than children whose mothers received other types of oils.
NATURAL AND SYNTHETIC OMEGA-3
Marine ω-3 comes from three sources, from: a) cod oil, b) fish oil, c) krill oil.
The first two are in the form of triglycerides (which, however, reduce blood triglycerides!)
and the third in the form of phospholipids. Synthetic omega-3s are also widely available on the market,
due to their low cost. These are in ethyl ester form. Möller's Omega-3
are derived from cod or wild fish oil (never from fish farms) and are,
of course, naturally ω-3 in the form of triglycerides.
Vitamin D
The most important role of vitamin D is to regulate the absorption of calcium and phosphorus for building bones. Its lack slows down the development of the human skeleton and "softens" the bones, causing rickets. Recent research has shown that it also plays an important role in the proper functioning of the brain in middle-aged and older people. Studies also support its involvement in the functioning of the immune system. Other roles attributed to it relate to its protective role against multiple sclerosis, heart disease and the risk of flu symptoms.
Vitamin Α
Important vitamin for cell division, skeletal growth and maturation, proper functioning of the immune system, eye health and night vision, as well as embryonic organogenesis.
Vitamin E
Antioxidant vitamin that protects cells from oxidative stress and omega-3 fatty acids from oxidation.
Usual use: 2 capsules per day.