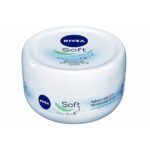 NIVEA Soft Moisturizing Cream with unique texture 50ml
NIVEA Soft Moisturizing Cream with unique texture 50ml
1,70 € Με Φ.Π.Α
Available from 1 to 3 days
2 in stock
NIVEA Soft is an effective moisturizing cream for daily use on the body, hands and face.
Its composition with:
Jojoba Oil – nourishes the skin.
Vitamin E – protects the natural structure of the skin.
It is absorbed directly by the skin, leaving a feeling of softness, rejuvenation and deep hydration.
With neutral pH.
Dermatologically tested.