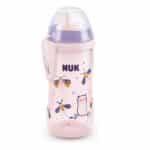 Nuk Kiddy Cup Night Pink Cup with Spout 12m+ 300ml (10.255.541)
Sale!
Nuk Kiddy Cup Night Pink Cup with Spout 12m+ 300ml (10.255.541)
Με Φ.Π.Α
| | |
| --- | --- |
| Weight | 0,3 kg |
| Κατασκευαστής | |
Available from 1 to 3 days
21 in stock
NUK Pacifier Kiddy Cup night 300 ml with spout (10.255.541)
The glowing parts make the pacifier stand out in the dark, so the baby can find it very easily, without waking up mom and dad. All you need to do is put the pacifier under a lamp or in the sunlight. Its special material stores the energy and emits it in the form of a gentle glow. All Night*
Like every other NUK playpen, NUK Kiddy Cups, glow in the dark, provide protection against leaks, so the bed stays dry and warm. And of course they come in a variety of enchanting colors and designs – specially designed for a night full of beautiful dreams.
*Shines up to 8 hours
Resistant to the pressure exerted by children's teeth
Once kids get their first teeth, they love to use them! For this very reason, the NUK Kiddy Cup has a spout made of durable synthetic material (polypropylene). The muzzle withstands the pressure exerted by the child's teeth and has a long life. With a capacity of 300 ml, the NUK Kiddy Cup can quench even the thirstiest of children. The bottle is thinner in the middle so that children can more easily grasp and hold it with their little hands. Thanks to the transparent material, mom or dad can see at any time how much the child has drunk and whether their cup is full enough.
The easy-to-use leak-proof valve detaches very easily from the top of the bowl, making it very simple to clean thoroughly. The flexible connection of the valve to the top of the bucket ensures that the valve will not be lost. The cooler and its accessories are also dishwasher safe
The Kiddy Cup is compatible with all NUK First Choice products. It can be used without any problems with all the other spouts of the First Choice series; so the possibilities of the pacifier "grow" with your child.
NUK Kiddy Cup – and drinking liquids becomes 100% fun. For children from 12 months.