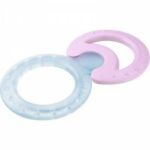 Nuk Toothpaste Ring Set Cool Pink 3m + 2pcs (10.256.225)
Sale!
Nuk Toothpaste Ring Set Cool Pink 3m + 2pcs (10.256.225)
Με Φ.Π.Α
| | |
| --- | --- |
| Weight | 0,09 kg |
| MPN | 4008600083764 |
Available from 1 to 3 days
4 in stock
Nuk Cool Teething Rings Set
Set of two rings: Classic and Cool
They massage and cool the points where the pain is located, along the entire length of the jaws
They help prevent caries by stimulating the flow of saliva
They are resistant to bites and do not contain liquid
For carefree teething
For many babies, the appearance of the first teeth can be an extremely unpleasant experience. So they need even more affection and care, but also products that can facilitate this important stage of their development, while giving them the opportunity to have fun and satisfy their natural need for play.
The NUK Cool Teething Ring Kit helps your child in a number of ways:
The Classic ring massages the palate and gums, while the Cool ring cools and soothes the areas of pain, without containing liquid!
Thanks to their ergonomic shape, the rings easily reach any part of the child's jaw.
Chewing movements stimulate the flow of saliva, which in turn helps prevent tooth decay.
Finally, thanks to their bright colors, the embossed surface, the different contour and texture and the ability to be assembled, the durable rings are ideal for the child to grab them, touch them and play with them.
Colors & Designs:
Available in various colors.
The plans are indicative and may change.
If you want a specific color, please indicate it in the comments of your order! Based on availability, we will try to serve you in the best possible way.