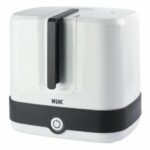 Nuk Vario Express Steam Sterilizer, 1 piece (10.251.013)
Sale!
Nuk Vario Express Steam Sterilizer, 1 piece (10.251.013)
Με Φ.Π.Α
-27%
| | |
| --- | --- |
| Weight | 4 kg |
| Dimensions | 25 × 27 × 27 cm |
| Κατασκευαστής | |
| MPN | 4008600237914 |
Available from 4 to 10 days
NUK Steam Sterilizer, for up to 6 Baby Bottles and Accessories, Sterilizes Quickly and Reliably within 6 Minutes.
Hygiene becomes the highest priority in a family with children, especially in the first months of life as the newborn's immune system is not yet fully developed. With the NUK steam sterilizer you can be sure that microorganisms are reliably eradicated from bottles, pacifiers and accessories. However, the steam sterilizer not only ensures complete and thorough sterilization – but also facilitates the work of daily family life.
The NUK Vario Express steam sterilizer steam sterilizes baby bottles – removing 99.9% of germs without the use of chemicals. At the same time, the device offers maximum convenience, as the six replaceable rods and the basket for accessories can be adjusted as needed. This means that there is room for up to 6 classic baby bottles. In addition, along with bottles, pacifiers, accessories can also be sterilized quickly and reliably and teething rings in the removable basket. Once lit, the NUK electric sterilizer heats and boils the water it contains. With the heat of the atmosphere generated by the steam temperature above 90 ° C, the germs are eliminated and you can use all the sterilized components reliably. If the lid is not opened, the components remain sterile inside the device for up to 24 hours.
Just pressing a button starts the cleaning process – and after the sterilization is completed, the device switches off automatically. Bottle bottles and pacifiers can be sterilized so easily without the need for extra time. This is especially important when time is running out and parents need to demonstrate their ability to manage multiple tasks simultaneously. With its modern and compact design, the NUK Vario Express sterilizer fits into any kitchen.
NUK Vario Express steam sterilizer – fast, simple and reliable, practical help for a household with children.