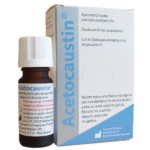 PharmaQ Acetocaustin Αποτελεστική Θεραπεία για τις Μυρμηκιές, 0,5 ml
Sale!
PharmaQ Acetocaustin Αποτελεστική Θεραπεία για τις Μυρμηκιές, 0,5 ml
Με Φ.Π.Α
-21%
| | |
| --- | --- |
| Weight | 0,10 kg |
| Κατασκευαστής | |
| MPN | 5200363800131 |
Delivery 4 to 10 days
100mg solution for application on warts
50mg monochloroacetic acid, distilled water.
Press on the perforated points and insert the Acetocaustin into it during use.
Close the vial tightly after use.
Acetocaustin is the most effective treatment for warts, offering the patient a definitive solution to the problem, thanks to its active substance (monochloroacetic acid) which needs to be applied ONLY once a week.
It has been available in 22 countries for over 30 years, treating more than 8 million patients
Suitable for Common & Plantar warts:
• As monotherapy
• Before invasive treatments, to prepare
• After invasive treatments, to treat relapses
Simple and easy to use dosage regimen: Only Once a Week
Application instructions:
1. Before applying Acetocaustin, cover the skin around the wart with a layer of protective ointment (Vaseline).
2. Apply locally ONLY on the wart a small amount of Acetocaustin using the special spatula embedded in the cap.
Duration of treatment: 2-5 weeks