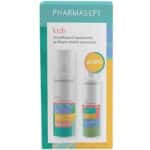 Pharmasept Promo Kids X-Lice Preventive Lice Lotion 100ml & Gift Gentle Children's Shampoo 100ml
Pharmasept Promo Kids X-Lice Preventive Lice Lotion 100ml & Gift Gentle Children's Shampoo 100ml
9,55 € Με Φ.Π.Α
| | |
| --- | --- |
| Weight | 0,5 kg |
| Κατασκευαστής | |
Available from 1 to 3 days
5 in stock
Pharmasept X-lice Protective Lotion Unscented Preventive Antifungal Lotion Spray 100ml
Preventive anti-fungal lotion for daily use, fragrance-free.
Its reinforced composition with 20% IR 3535 offers protection against lice for up to 48 hours, without irritating the scalp.
Without fragrance and preservatives.
Clinically proven action.
Dermatologically tested.
Odorless.
It doesn't make the hair greasy.
Suitable for children from 2 years and older.
Apply the product evenly to clean and dry hair, close to the scalp, starting from the nape and the area behind the ears.
For adults, up to approximately nine (9) sprays per application.
For children aged 1 to 11 years approximately four (4) sprays per application.
The product is usually applied only once a day. The application must be repeated after washing the hair. When the biocidal product is applied to children under 11 years of age, it should be applied by an adult.
Apply a sufficient amount to dry hair and spread with gentle movements to cover the scalp to the roots.
Allow hair to dry naturally and comb through without rinsing. As long as it is not washed off with water, it protects up to 48 hours.
Apply preventively to the hair before any group activities of the child (school, play, etc.). Perfect during the school year or camp.
Guaranteed Composition : Ir 3535 20% W/w, Auxiliary Substances 79.2% W/w.
Ministry Approval Number of Agricultural Development & Food: TP 19-0269
---
GIFT Kids Soft Hair Shampoo Mild Shampoo with Emollients 100ml
Mild children's shampoo for daily use for soft and shiny hair.
With mild cleansing agents and softening ingredients that give softness, shine and vitality to the hair.
Completely free of sulfates, silicones, soap, mineral oil, phenoxyethanol, allergenic fragrances.
Gentle cleaning
The mild soap-free cleansing agents combined with the biomimetic phospholipids from Coconut oil effectively cleanse the hair of environmental pollutants without irritating the sensitive skin of the head.
Softening action and shine
Silk proteins and Pro-Vitamin B5 strengthen the moisture of the hair, keeping the hair soft and easy to comb, while at the same time giving shine, vitality and volume to the hair.
Soothing action
Chamomile extract offers a soothing effect on possible scalp irritations.
Without Sulfates, Silicones, Soap, Mineral Oil, Phenoxyethanol, Fragrance Allergens.
Ophthalmologically and dermatologically tested on sensitive skin.
See the rest of the products in the same series by clicking the link below
Pack of preventive anti-fungal lotion for daily use, fragrance-free. Offers protection against lice for up to 48 hours.