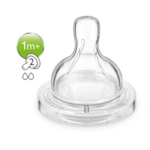 Philips Avent Baby Nipples Classic Slow Flow Nipple 1m + 2pcs
Sale!
Philips Avent Baby Nipples Classic Slow Flow Nipple 1m + 2pcs
Με Φ.Π.Α
| | |
| --- | --- |
| Weight | 0,20 kg |
| Κατασκευαστής | |
| MPN | 5012909010856 |
Available from 1 to 3 days
2 in stock (can be backordered)
Clinically proven reduction of colic and discomfort *
With the Philips AVENT Classic + nipple, your baby can control the flow of milk on his own, so he eats as much as he needs and does not "take out" the food. The unique valve stretches by directing the air to the bottle, giving your baby a healthy, active food intake and reducing discomfort and colic. *
Easy to hold, thanks to the unique nipple valve
The unique nipple valve folds depending on how fast your baby eats. Thus, the milk flows at the speed chosen by the baby, so that he eats as much as he needs without "taking out" the food, flowing and having gases.
Clinically proven to significantly reduce crying
Sleep and nutrition are very important for your baby to be healthy and happy. A randomized clinical trial was performed to determine if the bottle design affected the infant's behavior. As it turned out, the Philips Avent Classic bottle significantly reduces crying by 28 minutes a day compared to the other bottle (46 minutes and 74 minutes respectively, p = 0.05), which was especially evident during the night. * *
Unique system against colic
As your baby eats, the sole nipple valve folds, directing air into the bottle and not into the baby's tummy.
Nipple without BPA
The nipple is made of silicone, a material that does not contain BPA (according to European Directive 2011/8 / EU)
Nipples of different flow are available
The Philips Avent Classic baby bottle offers four different flow rates to keep up with your baby's growth. Remember that the indications of age are given approximately, as each baby develops at its own pace. All nipples are available in packs of both.




Compatible with the classic baby bottle

We recommend that you use the Classic nipple only in conjunction with Classic baby bottles.