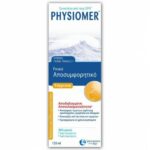 Physiomer Nasal Hypertonic Spray 135ml
Sale!
Physiomer Nasal Hypertonic Spray 135ml
Με Φ.Π.Α
| | |
| --- | --- |
| Weight | 0,30 kg |
| Κατασκευαστής | |
| MPN | 3564300001039 |
Available from 1 to 3 days
12 in stock (can be backordered)
Physiomer Hypertonic Decongestant is a natural, sterile and undiluted seawater that offers perfect cleansing and rinsing of the nasal cavity, effectively blocking it up to the upper part.
Thanks to its unique composition, it maintains its unchanged content of minerals and trace elements, without containing propellant gases and preservatives. The tip of the Physiomer Nasal Hypertonic Spray is specially designed to fit perfectly into the nose anatomy without risk of injury. For all these reasons, it is unreservedly recommended by the medical community in all cases of nasal congestion problems, from the newborn to the adult.
For adults and children over 6 years. Safe for pregnant women.
With 100% natural sea water.
Use:
1 to 3 sprays in each nostril, 2 or 3 times a day.