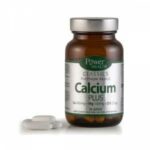 Power Health Calcium Plus 30 capsules
Sale!
Power Health Calcium Plus 30 capsules
Με Φ.Π.Α
| | |
| --- | --- |
| Weight | 0,25 kg |
| Κατασκευαστής | |
| MPN | 5200321008739 |
Available from 1 to 3 days
1 in stock (can be backordered)
Ca 400 mg + Mg 130 mg + D3 2.5μg
Dietary supplement with Calcium, Magnesium and Vitamin D3
Most of the calcium is found in the bones and teeth and makes up about 2% of the weight of the human body. It is also used in nerves, muscles, heart and blood.
To make the most of calcium, you need an adequate supply of vitamin D and magnesium, which is why these three nutrients coexist in the product.
Calcium is essential for:
Good bone and tooth healthNormal muscle functionNor proper nervous systemMaintaining vascular and heart healthNatural blood clotting
Calcium Adequacy:
Prevents osteoporosis and osteomalaciaHelps balance blood pressurePrevents muscle crampsHelps with nervousness, insomnia, stressHelps muscle and joint pain
It is suitable for:
Children and adolescentsWomen in menopausePregnancy and breastfeedingMearly-aged
The Calcium Plus of the Classics Platinum Range series contains the special composition that guarantees the maximum possible absorption of calcium, because it is combined with its two main absorption factors: the presence of vitamin D in the bioavailable form of D3-cholecalciferol- and magnesium. This composition is fully utilized by our body and ensures substantial coverage of calcium deficiencies.
DIRECTIONS FOR USE: Take 1 to 2 tablets, preferably after a meal
FORMAT: Tablet
QUANTITY: 30
WITHOUT: Sugar, gluten, lactose, preservatives.