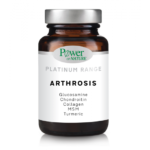 Power Health Classics Platinum Arthrosis 30caps
Sale!
Power Health Classics Platinum Arthrosis 30caps
Με Φ.Π.Α
| | |
| --- | --- |
| Weight | 0,18 kg |
| Κατασκευαστής | |
| MPN | 5200321008937 |
Available from 1 to 3 days
2 in stock (can be backordered)
Arthrosis for healthy joints
NUTRITIONAL SUPPLEMENT with Glucosamine and Chondroitin
Life wants… movement to enjoy it but also to cope with daily obligations. Often, however, joint pain fixes us. Arthrosis of the Power Classics Platinum Range series from Power Health is the ideal solution for their prevention and treatment. It is a supplement of high nutritional value that contains a wide range of vitamins, minerals and other nutrients, such as copper, manganese and vitamin C that contribute to the normal formation of collagen, as well as to ensure health and maintain normal condition of bones, cartilage and connective tissue.
It is suitable for:
Elderly people with arthritisPeople with chondropathy and arthritisAthletesPeople working in the orthopedicsOverweight strain on the joints of the lower limbs
Active ingredients
per tablet
Returned quantity
per tablet
% S.H.P.
Glucosamine Sulfate
500mg
–
Chondroitin Sulfate
400mg
–
MSM
150mg
–
Vitamin C
150mg
187.5
Collagen
100mg
–
Turmeric
60mg
–
Manganese
2mg
100
Copper
1mg
100
* S.H.P .: Recommended Daily Allowance / R.D.A .: Recommended Daily Allowance
Ingredients: Glucosamine Sulfate, Chondroitine Sulfate, Microcrystalline Cellulose, Methyl Sulfonyl Methane (MSM), Vitamin C, Hydrolysed Collagen, Turmeric extract (Curcuma longa extract), Mono and diglycerides from food fatty acids, Coating yellow, Manganese bisglycinate.
Instructions for use:
Adults: Take 1 tablet, preferably, after a meal as a dietary supplement or as directed by your doctor.
Diabetics: Medical advice is recommended.
FORMAT: Tablets
QUANTITY: 30
WITHOUT: Sugar, gluten, lactose, preservatives.