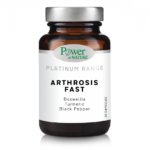 Power Health Classics Platinum Arthrosis Fast 20caps
Sale!
Power Health Classics Platinum Arthrosis Fast 20caps
Με Φ.Π.Α
| | |
| --- | --- |
| Weight | 0,18 kg |
| Κατασκευαστής | |
| MPN | 5200321009811 |
Available from 1 to 3 days
1 in stock
1) Classics Platinum Arthrosis Fast 20caps
The 1st "natural painkiller" for joint pains
Do you feel intense and sudden pain in the joints? Do you need a natural solution, immediate and drastic? Arthrosis Fast! The 1st natural food supplement in Greece that contains titrated Boswellia extract (Casperome®) which in combination with turmeric achieve 30 times faster and greater absorption at the site of inflammation. It also contains the titrated Bioperine® extract, (black pepper) glucosamine, chondroitin, collagen and nutrients such as vitamins B6 & C and trace elements manganese, selenium and copper. A unique holistic composition that treats and relieves inflammation and pain immediately and effectively, while at the same time, contributes to the protection, mobility and reconstruction of the joints.
Platinum formula… With natural ingredients for immediate relief!
Natural composition with:
Titrated Boswellia extract: A plant also known as Indian frankincense with traditional analgesic action. The titrated Boswellia extract (Casperome®), contained in Arthrosis Fast, has a higher bioavailability of the plant's natural active ingredients compared to common extracts [1,2]. joint pain. The titrated turmeric extract, Meriva®, offers greater relief from joint pain, compared to conventional methods of treating osteoarthritis [3]. human body [4] .Glucosamine: Ingredient with anti-inflammatory action that helps rebuild cartilage.Chondroitin: Ingredient that helps rebuild cartilage.Vitamin B6: Vitamin that contributes to the normal function of the nervous system. in the normal formation of collagen for joint health. Manganese: Manganese contributes to the formation of connective tissue. Copper: Copper helps maintain normal connective tissue. Selenium: Micronutrient that helps reduce oxidative stress in the joints.
Contributes to:
Immediate relief from joint pain.
Its Platinum features:
Boswellia-Turmeric: New technology with phytosomes for faster absorption of ingredients. Finds the point of inflammation immediately and quickly. Unique 5-fold "immediate action" composition on pain and inflammation. No side effects in the general healthy population. Approved and clinically approved.
Suitable for:
People with acute joint painPeople with inflamed jointsPeople suffering from arthritisElderly people with arthritisAthletesPeople before and after orthopedic surgeryPeople working in an orthostatic or sedentary lifestyle
Active Ingredients per capsule:
Glucosamine Sulfate 500mg, Chondroitine Sulfate 400mg, Bosperia Serrata extract (Casperome®) 100mg, Turmeric extract rich in curcuma (25) , Vitamin C / Vitamin C 20mg (25%) *, Black pepper extract (50: 1 Bioperine®, titrated in piperine) / Black pepper extract (50: 1 Bioperine®, stand. In piperine) 2mg, Manganese / Manganese 2mg ( 100%) *, Vitamin B6 / Vitamin B6 1mg (71%) *, Copper / Copper 1mg (100%) *, Selenium / Selenium 20mcg (36%) *.
* S.H.P .: Recommended Daily Allowance / R.D.A .: Recommended Daily Allowance
Contents: 20 capsules
GLUTEN-FREE, LACTOSE, CONSERVATIVE
Instructions for use:
Adults: Take 1-2 capsules, preferably after a meal as a dietary supplement or as directed by your doctor.
Diabetics: Medical advice is recommended
Close the lid thoroughly after each use. Store in a cool and dry environment (up to 25 0C), away from children with the lid tightly closed. Do not expose to heat, light or moisture. Do not exceed the recommended daily dose. Dietary supplements should not be used as a substitute for a balanced diet. This product is not intended to prevent, treat or cure any human disease. Check with your doctor if you are pregnant, breast-feeding, taking medication or have any health problems.
Store in a cool and dry environment, away from children.
Tel. Poison Center: 210 77 93 777
Arthrosis Fast product is combined with the Arthrigel joint pain relief cream. For long-term care and prevention for the health of Arthrosis joints