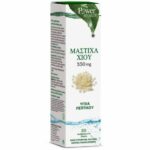 Power Health Mastic 20 effervescent tablets
Power Health Mastic 20 effervescent tablets
15,50 € Με Φ.Π.Α
| | |
| --- | --- |
| Weight | 0,20 kg |
| Κατασκευαστής | |
| MPN | 5200321008364 |
Available from 4 to 10 days
Greek Mastic
Mastic, a gift of health ικής Greek nature
Chios Mastic
We need to have strength and a strong stomach to meet, especially today, our daily obligations. That is why Power Health created Power Foods, a new series of products that enclose the power of Greek nature and consist of natural foods that alone work beneficially in the body. Mastic is a unique natural food of health and wellness… of Greek origin and world renown. "Hellenic Mastic", by Power Health, the only effervescent form, will excite you with its wonderful taste and will make your daily life more digestible thanks to its excellent antimicrobial and antibacterial properties, contributing to the proper functioning of the digestive system, while also offers you antioxidant protection.
Enjoy it every day!
Active ingredients per tablet: Chios Mastic (Pistacia Lentiscus) 350 mg
Contains 0.40g of carbohydrates per tablet.
Free of artificial colors, preservatives, gluten and lactose.
Each tablet yields: Chios Mastic (Pistacia lentiscus) 350 mg
Content:
20 Effervescent Tablets
Instructions for use:
Adults: Take 1 tablet daily, dissolved in a glass of water, as a dietary supplement after the main meal.
Pregnancy – Breast-feeding: Do not take any medicine during pregnancy and breast-feeding unless recommended by your doctor.