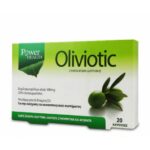 Power Health Oliviotic 20 capsules
Sale!
Power Health Oliviotic 20 capsules
Με Φ.Π.Α
-45%
| | |
| --- | --- |
| Weight | 0,15 kg |
| Κατασκευαστής | |
| MPN | 5200321009385 |
Available from 1 to 3 days
24 in stock (can be backordered)
Power Health Oliviotic diet supplement contains olive leaf extract (Olivactive®), with a content of 20% oleuropein, and proven natural antibiotic activity in the upper respiratory tract. It can deal with a wide range of viruses and bacteria. Olive leaves contain powerful antioxidant phenolic compounds and derivatives, most importantly oleuropein and hydroxytyrosol. In addition to its antioxidant activity, oleuropein is a natural bactericidal and bacteriostatic substance, while it also protects the cardiovascular system as it reduces platelet aggregation and bad LDL cholesterol.
Olive leaf extract has been found to be effective against many pathogenic microorganisms including influenza, herpes, fungi, parasites and bacteria. Hydroxytyrosol protects the cardiovascular system, has antioxidant and anti-inflammatory action and maintains good health of the brain, skin and joints. Olive leaf extract also has antihypertensive, vasodilator and hypoglycemic action, strengthens the immune system and protects against chronic fatigue syndrome. These active ingredients of olive leaves inhibit the growth or even kill the strains of many species of bacteria, viruses, fungi and other infectious agents that infect the human body.
Power Health Oliviotic diet supplement can strengthen the immune system, especially the upper respiratory tract, fight germs and viruses, without side effects, and can be helpful in cases of common cold and flu, pharyngitis, laryngitis, tonsillitis. In addition, Oliviotic is fortified with zinc and vitamin D3 to effectively relieve the symptoms of flu and colds and to strengthen the immune system.
Ingredients per capsule
Ingredients Content
Olivactive Olea europea L. extract 500 mg
Oleuropein 100 mg
Zinc 5 mg
Vitamin D3 1.75 μg
Instructions for use
1 capsule daily as a precaution and 2-3 capsules a day when symptoms occur. Free of sugar, gluten, lactose, preservatives and fragrances. Do not exceed the recommended daily dose. Suitable for children over 2 years. Dietary supplements should not be used as a substitute for a balanced diet. This product is not intended to prevent, treat or cure any human disease. Check with your doctor if you are pregnant, breast-feeding, taking medication or have any health problems. Store in a cool and dry environment.