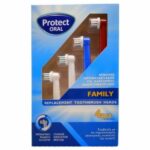 Protect Oral Family Electric Toothbrush Spare Parts (compatible with oral-b) 4pcs
Sale!
Protect Oral Family Electric Toothbrush Spare Parts (compatible with oral-b) 4pcs
Με Φ.Π.Α
| | |
| --- | --- |
| Weight | 0,15 kg |
| Κατασκευαστής | |
| MPN | 5214000952305 |
Available from 1 to 3 days
6 in stock
Protect Oral replacement heads are compatible with most electric toothbrushes on the market.
They have colored fibers that indicate that you need to replace the head.

The rounded edges protect the teeth (enamel) and gently massage the gums.

Medium hardness.

Replacement of the toothbrush / head every 3 months is recommended by dentists.

The practical packaging keeps the heads clean until it is time to use them.
Available in Standard (4 white heads) and Family (2 white and 2 colored heads) packages
For your complete oral care
Choose the right toothbrush for your personal needs. If possible, opt for an electric toothbrush

Before using toothpaste once a week you can use some whitening powder or some other teeth whitening system

Choose toothpaste and mouthwash according to your personal needs.

Brush your teeth 2 or even 3 times a day, ideally in the morning by waking up, before bed and after every meal.

Use dental floss or interdental cleaning brushes for at least 1 daily brushing

During the day, after a quick meal, if you can not brush, choose some lozenges or candy to keep your breath fresh or a mouth spray.

Taking probiotics designed to work in the mouth can significantly enhance the therapeutic effect if you have a severe problem.

Daily intake of vitamin C enhances the regenerative capacity of the gums.
No oral care product, however, can replace the need for daily brushing and dental cleaning every 3 months, (or whenever your dentist prescribes), but also the adoption of a healthy lifestyle. If a symptom persists (such as a sore or bleeding gum, or severe pain) it is important to see your dentist as it may be a sign of a serious health problem that needs to be treated immediately.