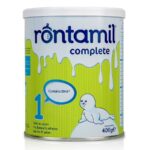 Rontamil Complete 1 Milk Powder 1st Infant Age 400g
Rontamil Complete 1 Milk Powder 1st Infant Age 400g
14,90 € Με Φ.Π.Α
| | |
| --- | --- |
| Weight | 0,55 kg |
| Κατασκευαστής | |
Available from 4 to 10 days
Rontamil Complete 1 Milk Powder 1st Infant Age 400g
Rontamil 1 Complete is powdered milk of first infancy suitable for feeding infants from the sixth month when breastfeeding is not practiced. Rontamil 1 Complete is part of a complete range of products, specially designed to meet the nutritional needs of infants.
Rontamil 1 Complete has a balanced composition with:
• Fructo-oligosaccharides (FOS)
• the 5 nucleotides present in breast milk
• ideal osmolarity (290mOsm/l) and PRSL (120mOsm/l) so as not to burden the kidney function
• proteins adapted to the needs of the infant
• the essential fatty acids for the development of the brain and vision
• all required vitamins
• all required minerals and iron in highly bio-available form
• taurine
• L-carnitine
Rontamil® products comply with European Union regulations and the International Food Codex for infant formula.
* Important Clarification: Infant formulas are non-refundable.