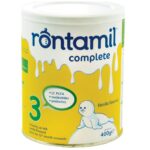 Rontamil Complete 3 Milk Powder 3rd Infant Age 400g
Rontamil Complete 3 Milk Powder 3rd Infant Age 400g
12,45 € Με Φ.Π.Α
| | |
| --- | --- |
| Weight | 0,55 kg |
| Κατασκευαστής | |
Available from 4 to 10 days
Rontamil Complete 3 Growth Milk with Vanilla Flavor 400g
Children from the age of one year although they can receive normal foods, they still have special nutritional needs which may not be fully satisfied by a normal adult diet or by taking cow's milk.
Rontamil 3 Complete is growth milk with a pleasant vanilla flavor suitable for feeding children from 12 months. It fully covers the nutritional needs of children after the 12th month as part of a diversified diet.
Rontamil 3 Complete has a balanced composition with:
• Fructo-oligosaccharides (FOS)
• the 5 nucleotides present in breast milk
• ideal osmolarity (300mOsm/l) and PRSL (109mOsm/l) so as not to burden the kidney function
• proteins adapted to the needs of the infant
• the essential fatty acids for the development of the brain and vision
• all required vitamins
• all required minerals and iron in highly bio-available form
• taurine
• L-carnitine
Rontamil products comply with European Union regulations and the International Food Codex for infant formula.
* Important Clarification: Infant formulas are non-refundable.