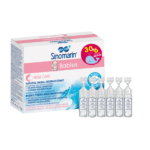 Sinomarin Babies 30 + 6 Ampoules Gift
Sale!
Sinomarin Babies 30 + 6 Ampoules Gift
Με Φ.Π.Α
-32%
| | |
| --- | --- |
| Weight | 0,30 kg |
| Κατασκευαστής | |
| MPN | 5206892101534 |
Available from 1 to 3 days
4 in stock (can be backordered)
Sinomarin is a natural product, innovative, ideal for decongesting and cleansing the blocked nasal cavity.
Removes mucus, crusts and dust, liquefies nasal secretions making them easier to eliminate and reduces swelling of the nasal mucosa. In this way, it cleans and decongests the nose quickly and efficiently. The cells of the nasal mucosa – from which the mucus is produced – often become edematous, due to the influence of factors that cause nasal congestion (viruses, germs, dust, allergens, etc.) Due to the fact that SINOMARIN water 2 3% in sodium chloride, has an osmotic effect (which is not the case with isotonic solutions) through which water is transferred from the blocked nasal mucosa (edema) to the nasal cavity resulting in a reduction in the size of the edema and thus achieves the congestion of the nasal cavity. nose.
Suitable for all ages (babies, children and adults) and all seasons.
Dosage: 1-2 sprays in each nostril, 2-3 times a day or according to the instructions of the treating physician.