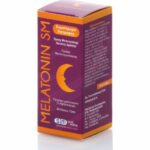 SM Melatonin Spray for the Treatment of Insomnia 12ml
Sale!
SM Melatonin Spray for the Treatment of Insomnia 12ml
Με Φ.Π.Α
-29%
| | |
| --- | --- |
| Weight | 0,10 kg |
| MPN | 8056300620075 |
Available from 1 to 3 days
4 in stock (can be backordered)
SM Melatonin Spray for the Treatment of Insomnia 12ml
Melatonin is a lipophilic molecule. In order to increase the absorption of such molecules, nanoemulsification is one of the most effective methods. The absorption of the component increases in proportion to the decrease in the diameter of the micelle.
The diameter of a nanoemulsion micelle is between 50 and 300 nm.
The preferred route of administration of the nanoemulsion is sublingual.
240% higher absorption of melatonin than the tablet form.
630% faster absorption in the first 5 minutes.
Dosage: Melatonin when taken in a dose of 1mg (1 spray) before going to bed, has a beneficial effect in reducing the time of sleep, while improving the quality of sleep, contributing to the feeling of rest that the person feels the next day.
Dosage of 1mg also helps relieve sleep disorders due to jet lag (bioregulation). The nanotechnology (nanoemulsification) through which Melatonin SM is prepared, ensures rapid release and immediate action.
Use: One spray a day just before bedtime, preferably sublingually. To alleviate the symptoms of jet lag, use the product on the first day of the trip and the following days after arrival at your destination. It has been calculated that for every hour of time difference, one day is needed for the body to return to its normal state. Shake well before use. The preparation provides 60 doses (sprays) in 12ml.
Ingredients.
Storage warnings and instructions:
Do not exceed the recommended daily dose. Keep it away from small children. Consult your doctor before use in case you are pregnant, breastfeeding, receiving any medication or suffering from any disease.
It may affect the ability to drive and use dangerous machines, as melatonin may cause drowsiness. Do not take it if you are allergic or hypersensitive to any of its ingredients or consume alcohol. Store in a cool and dry place, at a temperature not exceeding 25o C, away from light and direct heat. Any small deviations in color and taste and possible formation of a suspended sediment that can be dissolved by agitation, are related to the variety of ingredients of plant origin and are not an indicator of deterioration in product quality.