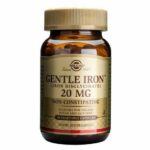 Solgar Gentle Iron 20mg Iron 90 Capsules
Sale!
Solgar Gentle Iron 20mg Iron 90 Capsules
Με Φ.Π.Α
-38%
| | |
| --- | --- |
| Weight | 0,21 kg |
| Κατασκευαστής | |
| MPN | 033984012493 |
Available from 1 to 3 days
2 in stock
Gentle Iron (Iron Bisglycinate) 20mg Vegetable Capsules – Pack of 90
Highly absorbable unique form of iron
Useful for people on a restricted diet, such as vegetarians and those on a strict vegetarian diet
Does not irritate the stomach / Ideal for sensitive stomachs
Reduces the side effects of constipation (common side effects when taking iron supplements)
People who follow a strict vegetarian diet, Vegetarians, Kosher
EOF Notification Prot. No. 29743 / 13.5.2005
Gluten Free Parve Dairy Free Soya Free Wheat Free Yeast FreeVegan Vegetarian
Solgar Gentle Iron 20 mg is ideal for those who find it difficult to consume traditional iron supplements and / or may experience bloating, constipation and indigestion. Solgar formula contains iron glycine, a form of iron that is well tolerated by sensitive stomachs.
Iron is a key mineral and essential nutrient that the body needs for many different biological functions. We need to consume healthy levels of iron through a healthy diet with foods such as red meat, legumes, nuts, eggs, seeds and leafy vegetables. However, especially in cases of restricted diet, such as vegetarianism, we may need additional support. Adequate iron intake has been shown to reduce fatigue and tiredness, while strengthening the healthy energy levels that many seek due to the demanding daily routine and normal aging. Iron also helps transport oxygen to our active cells and tissues. Thus, iron contributes to normal mental function, normal energy levels and the strengthening of a healthy immune system.
Unfortunately, iron can be a bit heavy on the gut, so Solgar introduced Solgar® Gentle Iron, which contains iron in a dysglycin form. This form is easily absorbed and does not irritate the stomach.
Solgar® Gentle Iron Dysglycene Tablets are kosher and suitable for vegetarians and people on a strict vegetarian diet. 1 tablet per day provides 25mg of iron in ferrous dysglycine form, equal to 143% of Nutrient Intake Reference Values. 1 capsule a day helps:
In normal mental function
In active metabolism
In the normal production of red blood cells and hemoglobin
In the normal transport of oxygen in the body
In the normal functioning of the immune system
To reduce fatigue and tiredness
In the process of cell division
All Solgar® products meet the recognized "Gold Standard" standards of excellence in our industry. All Solgar® products are made from natural ingredients and have been pioneers since 1947, and are the ideal dietary supplement for good health – 98% of consumers of Solgar® products recommend this brand *