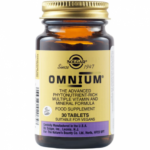 Solgar Omnium Multiple Tabs, 30s
Sale!
Solgar Omnium Multiple Tabs, 30s
Με Φ.Π.Α
-29%
| | |
| --- | --- |
| Weight | 0,25 kg |
| Κατασκευαστής | |
| MPN | 033984020658 |
Available from 1 to 3 days
1 in stock (can be backordered)
Omnium 30 Tablets
One of the most comprehensive multivitamins available, containing essential vitamins and minerals for daily vitality
47 active ingredients in excellent, highly absorbable forms, such as N-Acetyl-L-Cysteine, Coenzyme Q-10, quercetin, broccoli powder
Rich in antioxidants (such as vitamins A, C & E) that help protect against free radicals
Rich in plant nutrients (such as carotenoids, isoflavones and flavonoids)
Ideal for professional athletes who strive to have a balanced and healthy lifestyle
EOF Notification Prot. No. 51697 / 10.8.2008
Gluten Free Dairy Free Wheat Free Yeast FreeVegan Vegetarian
Ideal choice for those looking for the "absolute" multivitamin in the modern lifestyle. Solgar® Omnium® is an award-winning multivitamin of exceptional quality that contains the perfect combination of advanced nutrients in a practical dosage twice a day. Extremely balanced nutritional formula with more than 47 ingredients. Omnium® is a truly unique combination, offering a synergistic blend of plant ingredients, antioxidants and special nutrients, as well as vitamins and minerals.
With two Tablets a day you maintain your energy and respond to the busy and active lifestyle.
It is one of the most comprehensive formulas available multivitamins and minerals of high activity.
Contains 47 essential vitamins, minerals, antioxidants & phytonutrients to help boost daily vitality
Contains phosphatidylserine complex & herbal ingredients, such as standard turmeric extract and cruciferous vegetable extract, broccoli
It contains an important blend of phytonutrients, plant ingredients and advanced antioxidants
Complete B-Vitamin profiles help boost energy levels daily and help reduce fatigue and tiredness
Vitamins B2, B9 & B12 help reduce fatigue and tiredness
Vitamin C is important for the normal functioning of the immune system
High quality ingredients, such as chelating minerals, make ingredients highly absorbable
Contains important antioxidants, Vitamin A, C & E, that protect you from free radical damage. Free radicals are unstable molecules that can damage your body cells and are associated with certain health issues and premature aging.
Folic acid contributes to the normal functioning of red blood cells
All Solgar® products meet the recognized "Gold Standard" standards of excellence in our industry. All Solgar® products are made from natural ingredients and have been pioneers since 1947, and are the ideal dietary supplement for good health – 98% of consumers of Solgar® products recommend this brand *