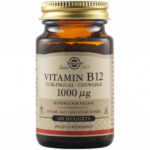 Solgar Vitamin B-12, 1000mg Good Cell Function, 100 nugets
Sale!
Solgar Vitamin B-12, 1000mg Good Cell Function, 100 nugets
Με Φ.Π.Α
-26%
| | |
| --- | --- |
| Weight | 0,20 kg |
| Κατασκευαστής | |
| MPN | 033984032293 |
Available from 4 to 10 days
Vitamin B12 1000 ublg Sublingual – Chewable 100 Nuggets
High activity 1000 μg
Available in comprehensible, practical sublingual tablet form
Vitamin B12 is a basic vitamin and has multiple health benefits
People on a strict vegetarian diet, Vegetarians, Kosher, Halal
It does not contain sugar, salt and starch
EOF Notification Prot. No. 61551 / 10.9.2010
Parve Dairy Free Soya Free Yeast FreeVegan Vegetarian
Solgar® Vitamin B12 Sublingual – Chewable 1000 Ng Nuggets contains 1000 μg Vitamin B12 in the form of cyanocobalamin. It participates in many functions of the body, reducing fatigue and tiredness and helping to release energy from food and support vitality.
The product is available in sublingual Tablets (which melt under the tongue) for easy consumption of this flexible nutrient, especially important for those who follow a restrictive diet (such as strict vegetarianism). Vitamin B12 boosts energy and supports overall well-being and vitality.
Solgar® Vitamin B12 offers 1000 μg with just one tablet per day, enhancing the health of the nervous system and the creation of healthy blood cells and boosting energy metabolism. Vitamin B12 is found naturally in fish, dairy products, organic meats, beef, pork and fortified foods, and is a water-soluble vitamin. Vitamin B12 is essential for maintaining energy and overall vitality and offers innumerable health benefits. Solgar Sublingual Tablets are consumed dissolved under the tongue, so B12 bypasses the stomach and is absorbed directly into the bloodstream.
Vitamin B12 boosts energy metabolism and helps:
In active metabolism
In the normal functioning of the nervous system
In normal homocysteine ​​metabolism
In normal psychological function
In the normal formation of red blood cells
In the normal functioning of the immune system
In the process of cell division
All Solgar® products meet the recognized "Gold Standard" standards of excellence in our industry. All Solgar® products are made from natural ingredients and have been pioneers since 1947, and are the ideal dietary supplement for good health – 98% of consumers of Solgar® products recommend this brand *