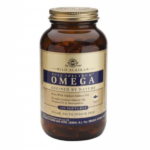 Solgar Wild Alaskan Full Spectrum Omega ™, 120 Softgels
Sale!
Solgar Wild Alaskan Full Spectrum Omega ™, 120 Softgels
Με Φ.Π.Α
-26%
| | |
| --- | --- |
| Weight | 0,45 kg |
| Κατασκευαστής | |
| MPN | 033984011106 |
Available from 4 to 10 days
Wild Alaskan Full Spectrum Omega 120 softgels
It is well known that fish oils are a natural source of essential fatty acids EPA and DHA. At the northern tip of the earth lives one of the purest and rarest natural sources of fatty acids, Alaskan wild salmon. Free of heavy metals and inhabiting one of the last pristine ecosystems on the planet, Alaskan wild salmon comes from exclusively sustainable fisheries and provides the most harmonious omega fatty acid ratio for the human body.
Omega-3 fatty acids have been clinically proven to provide anti-inflammatory activity, have benefits for the cardiovascular system and brain function and help maintain healthy blood triglyceride levels.
Solgar Introduces Wild Alaskan Full Spectrum OMEGA το Dietary Supplement, a unique natural blend of Alaskan salmon oil that covers the full range of OMEGA essential fatty acids (Ω3, Ω5, Ω6, Ω7 & Ω9), and contains astaxanthin , a powerful antioxidant carotenoid that gives salmon its intense pink color, and vitamin D3 as cholecalciferol for better absorption, with clinically proven purity and unparalleled bioavailability.
The complete omega range and mainly the omega-3 essential fatty acids contained in Solgar Wild Alaskan Full Spectrum Omega ρούν have a positive effect on the circulatory and cardiovascular system while omega-7, which are found in much higher concentrations than other plant sources such as sea ​​buckthorn, have antioxidant activity and promote proper digestive function. Finally, astaxanthin is a powerful antioxidant that helps maximize the assimilation of omega fatty acids by the body while vitamin D3 is an essential nutrient that contributes to the health of the bone, immune and cardiovascular systems.
Solgar Wild Alaskan Full Spectrum Omega. Essential fatty acids are taken as a dietary supplement for adults, 1-2 soft capsules, preferably with food.
Comes in a package of 120 soft capsules.
The Ω3 fatty acids contained in Solgar Wild Alaskan Full Spectrum Omega::
• Shield and enhance cardiovascular health
• They provide the most harmonious ratio of omega fatty acids for the human body
• Provide strong anti-inflammatory action
• Assist in the management of migraines
They help to create a shield against inflammation such as rheumatoid arthritis
• They help maintain healthy blood triglyceride levels
1 soft capsule Wild Alaskan Full Spectrum Omega ™ provides:
Alaskan Wild Salmon Fish Oils 1200mg:
Ω3 fatty acids † [101mg EPA (eicosapentaenoic acid), 90mg DHA (eicosapenta-
hexanoic acid), 20.5 mg DPA (docosapentaenoic acid), other Ω3 fatty acids],
Ω3 fatty acids 250mg, which provide:
EPA (eicosapentaenoic acid) 101mg
DHA (twenty-hexanoic acid) 90mg
DPA (eicosocial dicosapentaenoic acid) 20.5mg
Ω5 fatty acids 0.96mg
Ω6 fatty acids 24mg
Ω7 fatty acids 96mg
Ω9 fatty acids 192mg
Astaxanthin 10μg
Vitamin D3 2.5μg
EOF Notification Prot. No. 79116 / 10.11.2011