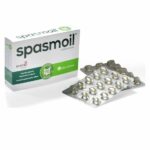 Sale!
Spasmoil 30 capsules
Με Φ.Π.Α
-31%
| | |
| --- | --- |
| Weight | 0,15 kg |
| MPN | 4751020310988 |
Available from 1 to 3 days
20 in stock
Honora – Spasmoil Nutritional Supplement 30 capsules
Abdominal pain is the most common discomfort and reason to visit the doctor.
Half of the patients show "unspecified" findings (gastroenteritis) and the other half suffer from more serious diseases that need further investigation.
It affects every person at least once in their lifetime, regardless of age, gender and social background.
Spasmoil is a natural antispasmodic analogue, which immediately relieves spasms and pain.
Discover now the natural product Spasmoil, a product "No-Spa" that will relieve you from spasms and pain with immediate action!
Properties of Spasmoil:
Natural antispasmodic analogue with direct action on smooth muscles: Relieves spasms and pain.
Created for immediate relief from painful abdominal cramps.
Safe intake, with minimal side effects compared to synthetic analogues.
Reliable, long-term and effective treatment for abdominal pain and bloating based on natural ingredients.
Your own natural antispasmodic!
Unique benefits for patients using Spasmoil:
Spasmoil contains the highest quality essential oils: Mint essential oil and fennel essential oil.
The active ingredients of mint (menthol-1) and methyl salicylate act as antispasmodics in the smooth muscles of the intestinal tract.
Fennel essential oil helps to relax the smooth muscles of the intestinal tract, promoting the elimination of gas.
Why do we feel painful abdominal cramps?