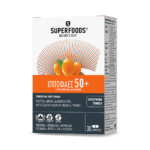 SUPERFOODS – Sea buckthorn 50+ 30 soft capsules
Sale!
SUPERFOODS – Sea buckthorn 50+ 30 soft capsules
Με Φ.Π.Α
-25%
| | |
| --- | --- |
| Weight | 0,00 kg |
| Κατασκευαστής | |
| MPN | 5213006870460 |
Available from 4 to 10 days
SUPERFOODS HIPPOFAES 50+ 30CAPS
HIPPOFAES 50+
NEA REINFORCED COMPOSITION WITH A COMPLEX OF SUPERTROPHY CONTAINING:
HIPPOFAES , PREBIOTICS, BROCCOLI, SCHISANDRA, PINE, Q10, LUTE
SUITABLE FOR VEGETERIAN, GLUTEN FREE, GMO FREE
ENERGY, ENDURANCE, STIMULATION, STRESS MANAGEMENT, ANTIOXIDANT ACTION FOR MEN – WOMEN
REINFORCED FORMULA
30 CAPSULES
Sea buckthorn: Helps strengthen the body.
Prebiotics: Gastrointestinal health. They nourish and help the growth and maintenance of the already existing beneficial bacteria of the intestinal flora.
Broccoli: Source of sulfaraphane. Antioxidant action.
Schisandra: Adaptive action, contributes to mental clarity and stress reduction.
Pine: Source of proanthocyanidins. Antioxidant action.
Q10: Energy. Antioxidant action.
Lutein: Helps maintain eye health.
Vitamins A, D, E, B6, B12
Selenium, Chromium: Contribute to the normal functioning of the immune system and the maintenance of healthy muscles, bones, teeth and normal blood glucose levels.
Amount per capsule NRV *%

Sea buckthorn (Hippophae rhamnoides) extract 100 mg
Inulin 75 mg
Broccoli (Brassica oleracea Botrytis Cymosa) extract 75 mg
Schisandra (Schisandra chinensis) extract 50 mg
Coenzyme Q10 20 mg
Pinebark (Pinus massoniana) extract 50 mg
Lutein 1250 μg
Vitamin B12 (Cobalamine) 5 μg 200
Vitamin B6 (Pyridoxine) 2 mg 143
Selenium 55 μg 100
Chromium 40 μg 100
Vitamin E 12 mg 100
Vitamin A 800 μg 100
Vitamin D3 5 μg 100
* Nutritional Reference Values ​​for vitamins and minerals for adults.
DIRECTIONS FOR USE: Take 1 capsule daily with food or as directed by your doctor or pharmacist.