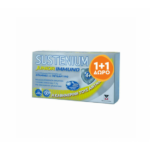 Sustenium Immuno Junior 1 + 1 Promo Gift, 14 + 14 Red Fruits sachets
Sustenium Immuno Junior 1 + 1 Promo Gift, 14 + 14 Red Fruits sachets
13,50 € Με Φ.Π.Α
| | |
| --- | --- |
| Weight | 0,32 kg |
| Κατασκευαστής | |
| MPN | 5213007120267 |
Available from 1 to 3 days
4 in stock (can be backordered)
Menarini Sustenium Immuno Junior is a Vitamin C, Zinc, and B Vitamin supplement designed to help your child's immune system.
It contains vitamins and minerals to stimulate the defense of children. It is useful during the change of seasons and especially before winter as a prevention, but also at the first signs and during the disease.
Gluten free.
Lactose free.
Use
Take 1 sachet of Menarini Sustenium Immuno Junior daily. It can dissolve on the tongue so you do not need water.
Packing
14 sachets