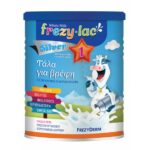 FREZYLAC SILVER 1 – Cow's Milk Powder up to 6 months 400gr
Sale!
FREZYLAC SILVER 1 – Cow's Milk Powder up to 6 months 400gr
Με Φ.Π.Α
-15%
| | |
| --- | --- |
| Weight | 0,65 kg |
| Κατασκευαστής | |
| MPN | 5202888105838 |
Available from 1 to 3 days
4 in stock (can be backordered)
FREZYLAC SILVER 1 is pure cow's milk powder, suitable for feeding the full-term infant from birth to the 6th month. It is produced from high quality cow's milk, following strict standards of agriculture and animal husbandry and contains all the necessary ingredients for the proper development of the baby in the first months of life: Vitamins, Minerals, Prebiotics, Nucleotides, DHA / ARA, Probiotics, are ideally combined.
– High quality cow's milk
– Low levels of carbohydrates, saturated fats, sodium and potassium
– Ideal percentages in energy, proteins, vitamins and minerals
– GMO free (genetically modified agents)
– No flavorings, preservatives, dyes, artificial additives or gluten
* Breast milk is the ideal food for babies. Exclusive breastfeeding during the first half of life is ideal for your baby. When breastfeeding is not possible or not enough, consult your pediatrician about including infant formula in your baby's diet. Starting a bottle-feeding diet can have a negative effect on breastfeeding.