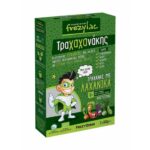 FREZYLAC ΤΡΑΧΑΧΑΝΑΚΗΣ – Organic Trachanas with Organic Vegetables 330gr
Sale!
FREZYLAC ΤΡΑΧΑΧΑΝΑΚΗΣ – Organic Trachanas with Organic Vegetables 330gr
Με Φ.Π.Α
| | |
| --- | --- |
| Weight | 0,35 kg |
| Κατασκευαστής | |
| MPN | 5202888106002 |
Available from 1 to 3 days
2 in stock (can be backordered)
without preservatives, salt, sugar, milk, eggs, odor
With a taste compatible with the nutritional preferences of infants and children.
Fasting
Notified to the EOF
Organic whole grain trachanas with organic vegetables. Organic trachanas of high nutritional value for infants from 6 months and young children. With organic whole wheat flour and whole fresh vegetables (zucchini, tomato, pepper, carrot, eggplant, onion, celery root) incorporated in the grain of wheat. It is the redesigned version of the trachana rich in fiber, vitamins and trace elements, in order to cover the demanding nutritional needs during weaning and later. Thanks to the method of traditional kneading with simultaneous incorporation of whole vegetables in the grain of wheat, frezylac Trachahanakis encapsulates all the nutritional benefits of trachana plus the "treasure" of vitamins, minerals and antioxidants of vegetables, creating a unique and nutritious meal for children. menu. And of course, the whole grain process itself, in which all the grains of the cereal are used, also retains all its beneficial nutrients. Prepare the trachana with easy boiling, due to the correctly selected grain size and enjoy its pleasant, creamy texture that does not require grinding.
* The pulping of fresh vegetables of Greek organic production is done during the production process in order to preserve their vitamins.
Follow procedure: check, clean, mash, boil, retest.
The product is consumed in the context of a varied and balanced diet.
It is a source of protein and a completely natural biological product.
Infants from 6 months, young children, adults and the elderly