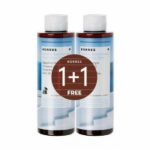 KORRES Shower gel Ambeli Santorini 1 + 1 Gift, 2 x 250ml
Sale!
KORRES Shower gel Ambeli Santorini 1 + 1 Gift, 2 x 250ml
Με Φ.Π.Α
-25%
| | |
| --- | --- |
| Weight | 0,60 kg |
| Κατασκευαστής | |
| MPN | 5203069051753 |
Available from 1 to 3 days
46 in stock
SANTORINI VINEYARD
Shower gel
8.45Fl. Oz. 250mL
__
Fresh, fruity aroma from flowering Greek vineyards
MAIN FEATURES & BENEFITS
Shower gel with moisturizing agents, ideal for daily use.
MAIN INGREDIENTS
Santorini Assortic Grape Extract, rich in polyphenols, strengthens the skin's defenses. Wheat proteins form a protective film, maintaining constant skin hydration levels, while Althea contains substances with soothing and emollient properties.
Wheat Protein:
Wheat [Triticum vulgare], as evidenced by numerous archaeological finds up to twelve thousand years old, is the second [with barley first] plant cultivated by man. The enormous nutritional value it has today and the ease with which it thrives in a wide variety of soils and climates, have resulted in its cultivation occupying a larger area worldwide than any other plant. Wheat proteins retain moisture inside the skin.
DERMATOLOGICALLY TESTED