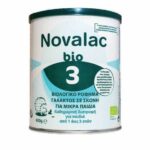 Novalac Bio 3, Organic Powdered Milk Drink – 400gr
Sale!
Novalac Bio 3, Organic Powdered Milk Drink – 400gr
Με Φ.Π.Α
-15%
| | |
| --- | --- |
| Weight | 0,55 kg |
| Κατασκευαστής | |
| MPN | 3518072032050 |
Available from 1 to 3 days
10 in stock (can be backordered)
Novalac Bio Baby Milk Number 3
Novalac Bio 3 is an organic powdered milk drink intended for children aged 1 to 3 years as part of a varied and balanced diet and a healthy lifestyle.
Certified Organic 3rd Milk Powder Drink without GMOs and without Pesticides
Contains calcium, vitamin D, iron, phosphorus and iodine that contribute to the normal development of children.
Preparation instructions
Always wash your hands before making milk. Wash and sterilize the bottle or cup, the nipple, and all utensils you will use.
Boil clean drinking water for 5 minutes and then allow it to cool to 40 ° C or heat pure fresh mineral water with a low mineral content to 40 ° C. Fill the bottle or cup with the required amount of water.
Add the right amount of powder, using only the measuring tape inside the box (sharp flat measuring tape). Do not squeeze the powder into the measuring tape.
Shake well until the powder is completely dissolved and there are no lumps.
Allow the contents to cool until lukewarm (37oC). Test the temperature of the milk by dripping a few drops inside your wrist. Give the milk immediately.
Storage instructions
Close the box after each use with the lid available.
Store in a cool and dry place, protected from light.
Use it within 3 weeks of opening.
Do not use after the expiry date which is stated on the carton.
Do not prepare the bottle in advance, but always just before use.